Health Invest to start construction on two ambitious projects in Wallonia in March 2015
Project developer Health Invest has completed the financing for two small-scale but ambitious projects in Wallonia. A dated residential and shopping complex in Nivelles – Residence Gabriel – is to be comprehensively upgraded, while in Mons the former Le Corso cinema is to be converted into a residential complex with 17 luxury apartments. The building permits for both projects were obtained last year, and Health Invest will start construction in March.
Residence Gabriel is in the centre of Nivelles on the corner of Place Emile Delalieux and Rue Saint George. The town has become an excellent housing alternative for people working in the relatively expensive Brussels conglomeration.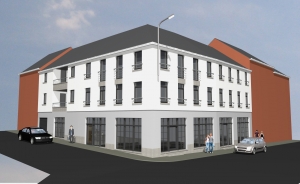 Once the renovations – using sustainable high-quality materials – are completed, Residence Gabriel will consist of six apartments and two shops on the ground floor. The larger apartments will be around 100 m² and the smaller ones 70 m2, all with a balcony and/or terrace.
The apartments are divided over two floors.  The two commercial units on the ground floor are a total of 350 m2 in size, and are perfectly suited for shops catering to a variety of sectors. After renovations are completed Health Invest will market the residential units at very competitive prices, starting at 162.700 euros.
For further information, please contact:
Mr Olivier Mathurin
Immobiliere Sogefi
Square Gabreille Petit 5
1400 Nivelles
Tel: 067/ 213 006
Mobile: 0479/ 214 127
---
The Le Corso project arose when the city of Mons and developer Health Invest expressed a desire to create a new and harmonious residential space in the centre of the historic city. Le Corso was once a renowned cinema in the heart of the city until it was repurposed.
PROJECT 'LE CORSO'
Health Invest will create 19 residential units where the old cinema hall stood, all of high architectural quality, giving occupants the opportunity to live in luxury surroundings in the centre of Mons. The architectural plan sees the units located on the site of the Corso and consists of 19 different residences, ranging from studio flats to one, two and three bedroom apartments. The size of the apartments ranges from 57 to 140 m².
This diversity caters to the demand in the city for a range of accommodation types, creating the greatest number of opportunities and satisfying the present standards in terms of energy quality. Fourteen parking spaces finish the project off. The rear side of the units is open, so as to enjoy the excellent location and views of the enclosed garden. Each apartment is perfectly finished and equipped with everything that a modern household might want and desire.
The most significant characteristic of the project is the presence of a great deal of vegetation on each floor, and of the large green-filled patio within the apartment complex. Prices start at 161.460 euros.
For further information, please contact:
Mrs. Ilona Sekula
Health Invest SA
Mobile: 0476/606 537