4 February 2020
New partnership between AG Real Estate and Vooruitzicht in Mechelen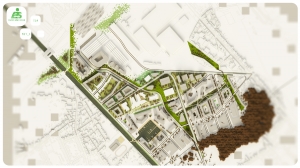 Right before the new year, AG Real Estate and Vooruitzicht reached an agreement with the Beherman family to acquire the grounds of Park Ragheno NV in Mechelen.
In acquiring these 11 hectares, which account for about one third of the development potential at the Ragheno site, AG Real Estate and Vooruitzicht obtained a key position on said site, together with the companies MGRE and NMBS (Belgian Rail).
The Ragheno site already plays host to the headquarters of the Red Cross, Wolters Kluwer, the fashion group FNG and a regional headquarters of De Lijn [Flemish public transport]. The City of Mechelen wants to upgrade it by drawing up a Spatial Implementation Plan (SIP), with mixed functions at its core.
The draft Master Plan, which has already been approved, provides for some 2500 housing units, 140.000 m2 worth of office space and additional urban features such as schools, a large recreational park and community facilities to accommodate the evolving needs and growth of the City of Mechelen. This upgrade will be launched with Galapagos, a biotech company, which has applied for an environmental permit for its headquarters.  
Located near the Mechelen railway station, which is also to be upgraded, the site is strategically located in terms of mobility and accessibility, with major cities Antwerp and Brussels being under 22 minutes away.
This project is a sequel to the successful cooperation by and between AG Real Estate and Vooruitzicht which originates in the collaboration on the Regatta project in Antwerp.
About AG Real Estate
AG Real Estate, a wholly owned subsidiary of AG Insurance, is an integrated real estate operator active in Belgium, France, Luxembourg and on certain European markets with expertise in different lines of business: Asset & Property Management, Development & Construction Management, PPP and real estate financing, as well as in Car Park Management through its subsidiary Interparking.
A city stakeholder, AG Real Estate has a workforce of more than 250 employees with varied profiles and skills.
With a portfolio under management (for its own account and on behalf of third parties) of more than €6.5 billion, AG Real Estate strives to address responsibly the new urban needs and is implementing a sustainable development policy to give even more sense to its projects.
About Vooruitzicht
Vooruitzicht has been building and developing property in and around Antwerp for more than 115 years. Quality is very important to us. You can see this quality in every aspect of our new-build projects. We always select top locations in terms of accessibility, public transport, greenery and parks, culture and shops. This is combined with stylish architecture that fits perfectly with the way we live today and with modern standards. We consider these basic requirements for houses and apartments that offer added value.  
Our aim is to make life in the areas developed by Vooruitzicht as pleasant as possible, so that residents feel completely at home. This means that we think not only about project development, or where people want to live, but also about neighbourhood development, or how people want to live.  We therefore take the needs of all interested parties into account, including local residents, buyers, renters and/or investors.
Vooruitzicht also offers all elements of project development under one roof. What our customers like about our way of working is the fact that we manage everything ourselves, from the very beginning to completion. This means that our clients communicate directly with someone from Vooruitzicht during every phase they are involved in, which goes a long way to explaining the high quality standards we set for ourselves.
Today, Vooruitzicht is still known primarily for its property projects in and around the city of Antwerp, such as Land Van Hop and the Stadsfeestzaal, Zuidervelodroom, the Vismijn, Hippodroom, Hemixveer, the Regatta district in Linkeroever and many more. We now have a second location in Turnhout, home to the Heijzyde project