Six buildings are to be built on the site of the former Athénée de Jemappes, providing accommodation for 54 households.
The site of the former Royal Athenaeum in Jemappes has been looking for a new destination for years. Disused for decades, it has become a cancer in the heart of the city, wedged between the Rue des Représentants and the Avenue de la Faïencerie.
But this time we have never gone so far in its potential reconversion. The company Health Invest, based in Bornem in the province of Antwerp and owner of the 1.3 hectare site, has applied for a permit to build a complex of 54 flats divided into 6 buildings, an underground car park with 54 spaces and a residential park. The project is subject to a public enquiry, which ends on 7 July.
Originally, 61 flats were planned on the site of the former school, but the project was recalibrated after dialogue with the city. In the end, 25% of the site will be built on, with the rest being given over to green spaces. As the car park will be underground, there will only be about ten spaces on the surface.
It should be noted that the historical building of the Athenaeum dating from the 18th century will be preserved, as will the surrounding wall. "The historical imprint of the site will therefore be preserved," said the alderman for urban planning, Maxime Pourtois, recently in the columns of the DH.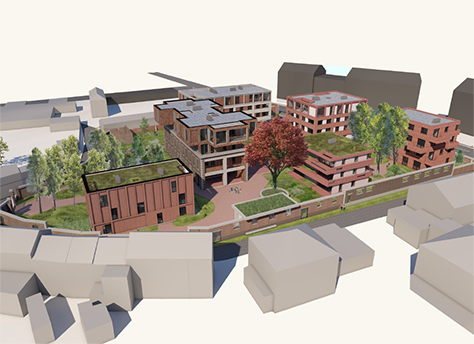 The flats will have one to two bedrooms. The buildings will also include eight social housing units, which will be managed by the Social Housing Agency (AIS).
Beyond the project, the alderman is pleased to see that Jemappes is attracting investors. "On the other side of the road (Avenue de la Faïencerie), Concept Confort is developing flats. These types of projects allow us to reintroduce diversity.
After the public enquiry has been completed, the municipal college will issue an opinion. The empowered official of the Walloon Region will then rule on the permit application.